Professionalism Award Winner 2023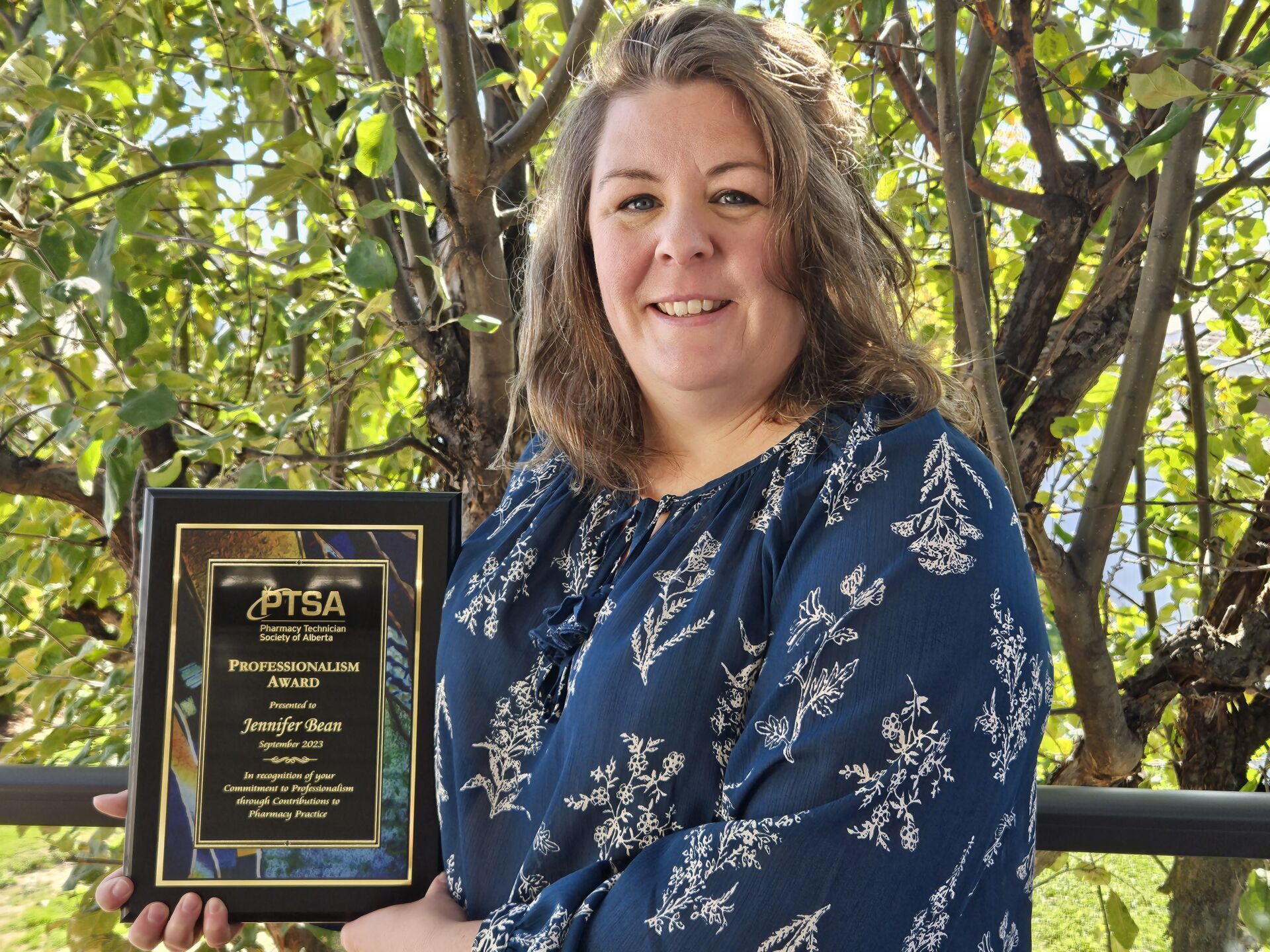 Congratulations to Jennifer Bean, our 2023 Professionalism Award Winner!
Jennifer has worked in pharmacy for over 25 years in both retail and hospital settings. She has held different roles within Alberta Health Services including front-line, projects, and Operations Manager. Most recently she has been working on the Centralized Drug Production & Distribution Project which included designing the new North Sector Central Production Facility being built in Edmonton as well as the functional programming of the South Sector Central production facility. When the facility opens, she will be one of the Operations managers at the Edmonton site.
She is a longstanding member of PTSA where she previously served on the Board of Directors as the Secretary. She has volunteered on PTSA Advocacy and Conference Planning committees. She co-chaired the conference planning committee for the 2017 and 2019 Annual Alberta Pharmacy Technician Conferences in Edmonton. She has authored and contributed to PTSA blogs for the website. She has also served on committees for the Alberta College of Pharmacy.
In her time with Alberta Health Services, she has been asked to be part of various working groups. She has taken the lead on several initiatives impacting pharmacy technicians and pharmacy as a whole, e.g., reviewing federal narcotic legislation and suggesting ways to modernize it with the use of pharmacy technicians. She was a contributor to a PTSA position paper on The Pharmacy Technician's Role in the Handling of Controlled Substances.
In her current role and as a member of a virtual team, she saw the need for team building to ensure a more cohesive group. She initiated regular team building activities, which has resulted in a stronger work team.
She was invited to speak at the CSHP Together 2023 conference in Banff, which attracted more than 800 attendees. Her topic on The Perks of Centralization was very timely with the planning of the next Central Production Facility in Alberta. Her contribution to the work of the Centralized Drug Production and Distribution Project will directly impact and enhance the roles of pharmacy technicians and pharmacy assistants in the preparation, packaging, and distribution of medications to Albertans.
Cheers to you Jennifer! We look forward to seeing what changes you will bring about in the future!