Professionalism Award Winner 2022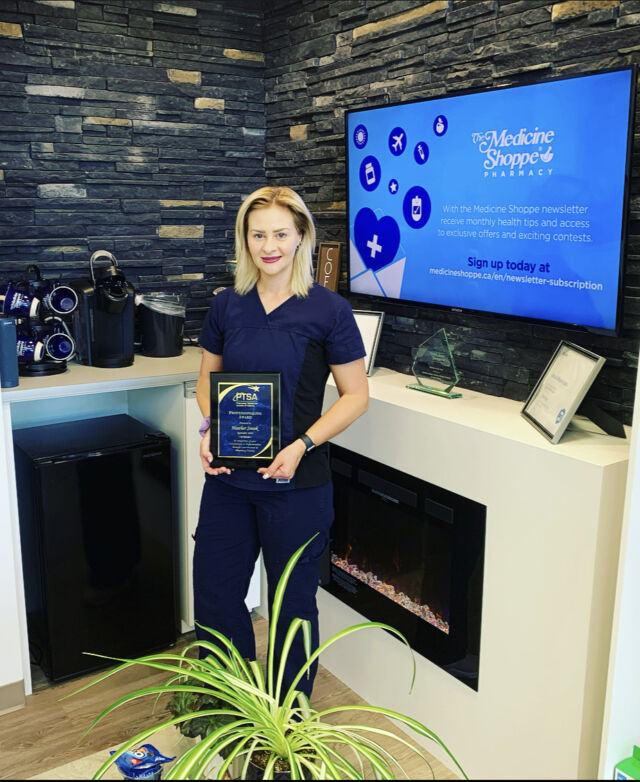 Carlynn Bullock, PTSA secretary had the honor of announcing our professionalism award winner in 2022:
I am excited to be here with you all today to present the 2022 Professionalism award. After the deadline was met our committee came together to mark the nominations sent in. We used our newly created rubric for the first time this year. With this tool we were able to determine a winner out of the exceptional nominees. I would like to congratulate Heather Snook as our 2022 Professionalism Award Winner!
Heather is a co-owner of The Medicine Shoppe and Compounding Center in Spruce Grove. She specializes in non-sterile compounding and manages the pharmacy lab. WIth this she developed policies and procedures for the lab, keeps up to date on the risk assessments and SDS sheets and in conjunction with PCCA develops all the recipes and formulas for their non-sterile compounds. On top of this Heather loves to teach and train Pharmacy assistants, technicians and pharmacists on non-sterile compounding.
Her pharmacy was one of the first to offer covid asymptomatic testing. With this Heather screened patients and managed bookings for tests and vaccinations as they were available. She also led the implementation for a covid travel -testing program. Due to her pharmacy's success they won the rookie of the year award for the best new franchise. Alongside her co-owner she was featured on Global Edmonton's "Health Care Heros" segment for the work they did during the pandemic and how accessible healthcare was at their location.
Heather is actively involved with the PTSA. This year she created a video on her role for our pharmacy awareness month celebration and will be a part of this conference as a Panelists of Pharmacy Technician's in Leadership Roles.
Her nominator has said "Heather makes sure we provide "5 star" service to everyone who walks through the door. She is instrumental in promoting the health and wellness of our patient population and can often be seen chatting with patients who just need a listening ear. Heather strives to advocate for patients and ensures they are receiving the best possible care. She calls it "just doing my job" but her care and attention is so appreciated by all our patients and staff.
Heather is committed to professionalism through excellence in pharmacy practice. She is making a difference in many areas with her contributions to pharmacy. And with that being said I would again like to congratulate Heather and present her with the 2022 Professionalism award.
Carlynn