2021 PTSA Professionalism Award Winner: Jennifer Tuck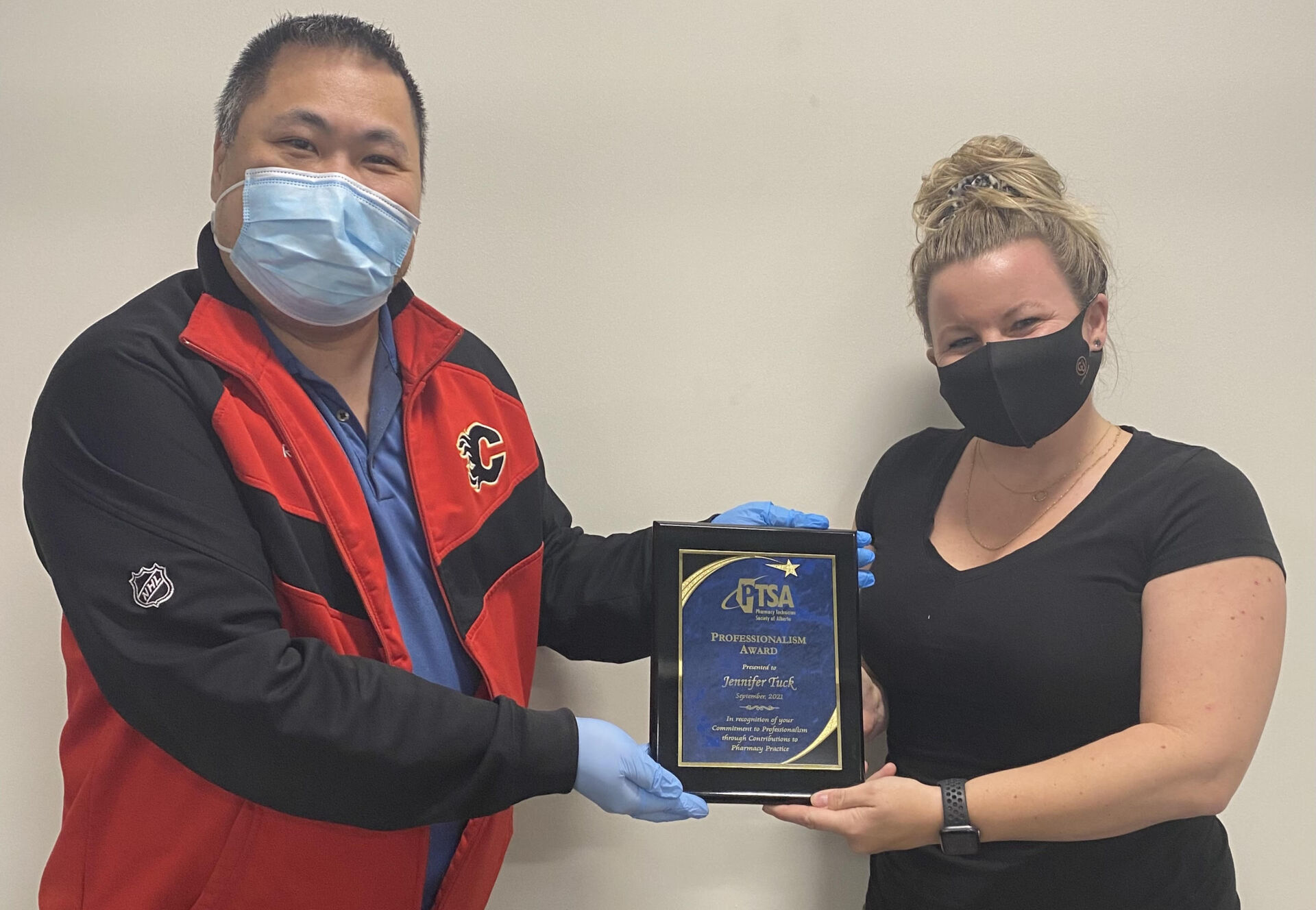 2021 marks a significant milestone in our industry.  It is the 10th anniversary of when technicians became regulated in Alberta.  In those 10 years, we have seen "Technicians Rising" to the challenge and help to change the landscape of how pharmacy is being practiced today.
The PTSA professionalism award recognizes the contributions that technicians have made to pharmacy practice.  PTSA encourages nominations of your fellow peers, or even yourself for a job well done.  Every year, we receive a number of outstanding nominees, each very deserving of the award. The awards committee reviews each nomination and judges the letters of support against predetermined selection criteria.
Only one nominee can win the award each year, and this year, the awards committee has selected Jennifer Tuck as the recipient of the 2021 PTSA Professionalism Award.
Jennifer has been in pharmacy for 16 years, with the last 10 being with Cambrian Pharmacy, where she is the current compounding lab manager.
Jennifer was an essential part of the pilot program when NAPRA introduced their new regulatory changes.  When ACP followed suit and introduced new standards for compounding, Jennifer was at the forefront and ensured that all safety measures during the renovations of their compounding room met the new standards that ACP had laid out.
Jennifer has built strong and lasting relationships in the pharmacy, not only with her peers, but with her patients as well.  She will assist patients in reaching their health goals and will focus on and share the small victories and happy moments with her patients, rather than focusing on the negatives.  That has been especially important in the last 1.5 years since the COVID-19 pandemic hit.
It can be overwhelming for some people if it is their first time inside a dispensary, as there is often an immense learning curve and frustration can set in.  Jennifer takes it upon herself to ensure that that doesn't happen.  In the last six years, she has trained and mentored 5 technicians and 3 assistants.  In fact, the individual who nominated Jennifer for the award made the comment that without Jennifer's encouragement, they would have never become a pharmacy technician and carved their own path to success.
John Quincy Adams once said "If your actions inspire others to dream more, learn more, do more and become more, you are a leader".  This quote is an accurate description of Jennifer.  She is leading by example and she inspires others to be better; encourages others to dream more and to become more.  She is truly deserving of this award.