2020 PTSA Professionalism Award Winner – Susan Iannuzzi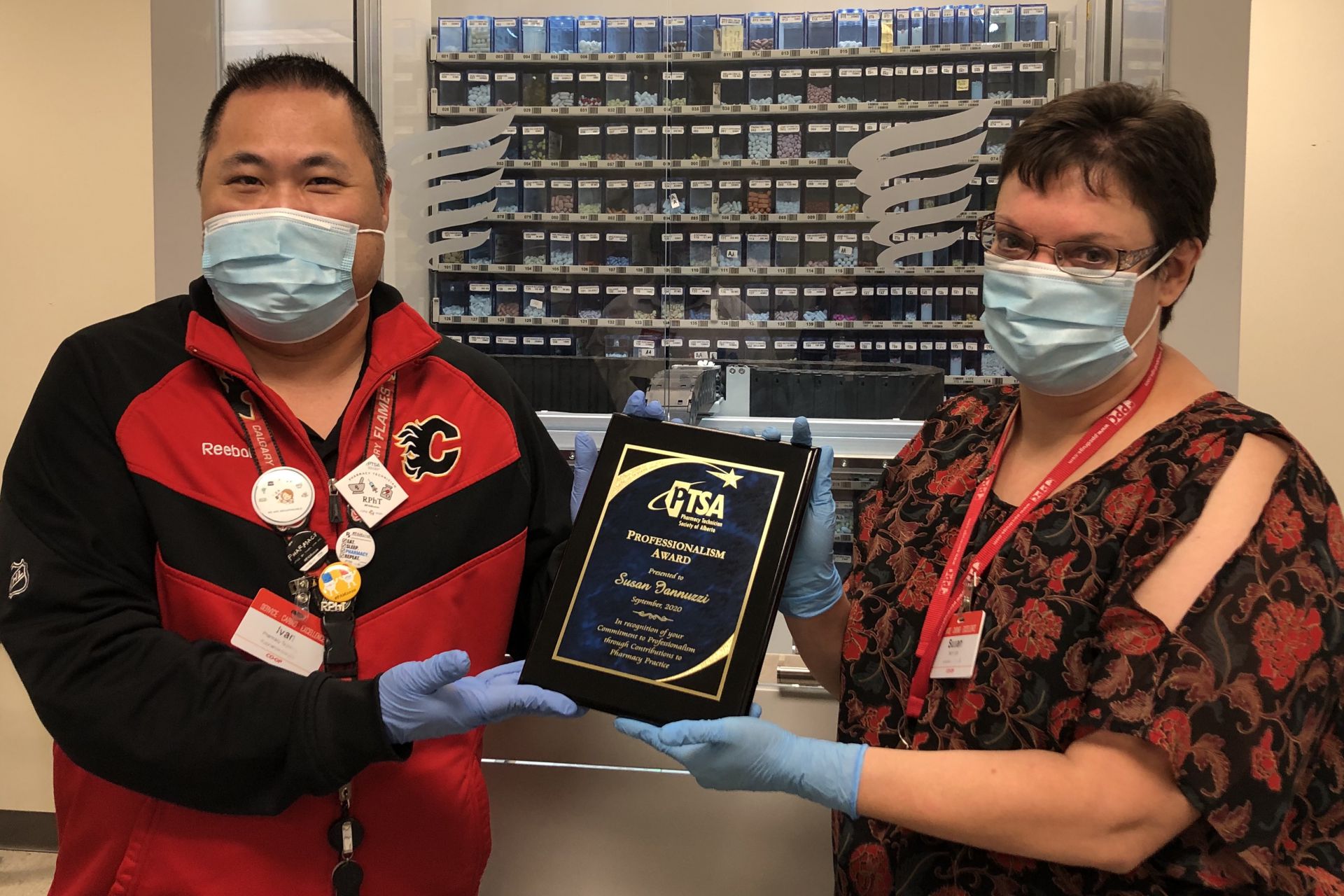 Each year, PTSA invites members to submit nominations for the Professionalism Award. It is an opportunity to recognize a colleague or even yourself for a job well done. This year, we had some outstanding nominees, which made the award committee's final decision extremely difficult. In fact, part way through the selection process, additional members were recruited to ensure the decision was fair and unbiased. In the end, the committee decided that Susan Iannuzzi was truly deserving of the award.
Susan graduated from the pharmacy technician program at Red Deer College in 1989. She worked at Shoppers Drug Mart for 11 years before moving on to Calgary Co-op. In the early 2000s, she was part of the technician training team and helped develop training modules for new pharmacy hires who had no formal training. In 2012, she completed her bridging program and became a registered technician. That same year, she successfully advocated for an enhanced scope of practice and developed best practices for technician final checking in the pharmacy.
In 2017, she moved to Calgary Co-op's Central Production Pharmacy and developed the best practices for technician final checking of compliance packages. Last year, she and another coworker developed and implemented a system to standardize compound entries into their Central Data Management system.
She has volunteered with the former Canadian Association of Pharmacy Technicians – Alberta Chapter (CAPT-AB), organizing continuing education events for its members. In 2008, when CAPT-AB was dissolved and the Pharmacy Technician Society of Alberta (PTSA) was formed, she was one of its founding members. She has served as the Membership Director for PTSA and has been involved in conference planning for both CAPT-AB and PTSA on numerous occasions. Most recently, she was the education lead for PTSA's first ever virtual conference.
She has been a lab instructor for the SAIT pharmacy assistant program, a preceptor for both pharmacy assistants and pharmacy technician students and a mentor to anyone completing the technician program.
Being a leader isn't just a title or about knowing how to lead. It is also about seeking out about potential opportunities to lead and seizing them in order to make it happen. When announced as the winner of the award during the PTSA 2020 Virtual Conference, Susan openly shared that she self-nominated in the hopes of inspiring more pharmacy technicians, especially those in community pharmacy, to seek out opportunities. To those who may not have had opportunities to lead, it is hoped that Susan being recognized as the 2020 PTSA Professionalism Award winner will inspire you to also seek out opportunities, so that you too can become leaders of your profession.