Townhall Summary: Injection Advocacy Efforts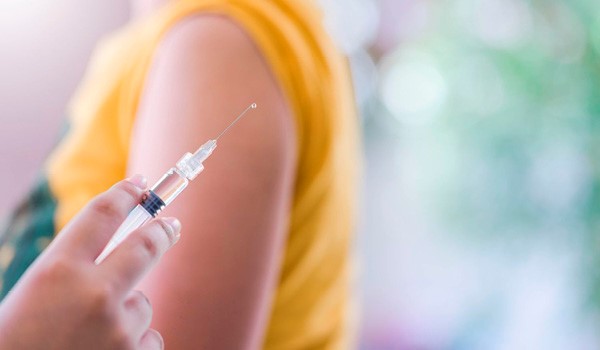 Having injection training available to Alberta pharmacy technicians is one strategy PTSA has been pursuing as part of overall advocacy efforts in pursuit of pharmacy technicians having authorization in inject.
At a Townhall meeting Jun 28, 2021, PTSA Administrator Teresa Hennessey and President, Morgan Lahl shared details about the advocacy work that has progressed over the last several years. Teresa and Morgan shared that PTSA would no longer be offering injection-training opportunities to Alberta pharmacy technicians until other pieces of the overall framework were in place.
Here is a summary of the discussion at the meeting. PTSA members may also access a copy of the slide deck through the Members Only section of the website.
History of Injection Advocacy Efforts
In 2018, PTSA representatives met with the Assistant Deputy Minister of Health, Pharmaceutical & Supplementary Benefits, to introduce the department to our organization and discuss the role of pharmacy technicians. We talked about our current scope of practice and the value that pharmacy technicians can provide to Albertans' care by expanding our scope even further to include activities such as the administration of vaccines. These were some of the first advocacy efforts to pursue injection authorization.
It was in 2020 that the PTSA Board started pursuing injection training for pharmacy technicians. Injection training was not pursued in insolation, advocating for legislation changes and developing a framework that will enable injections by pharmacy technicians became a focused priority. As with any new skill, additional training would be required before pharmacy technicians can inject drugs. Putting a plan in place to ensure training is available to pharmacy technicians was one part of the overall framework.
Original Injection Training Plans
In March 2020, several members of the PTSA Advocacy Committee were planning to travel to Maryland; USA to complete the national training program introduced for pharmacy technicians and bring their knowledge back to Alberta pharmacy technicians. The pandemic related travel restrictions and cancellation of the workshop delayed those plans. PTSA continued to work on ways to move closer towards pharmacy technicians administering injections.
In September 2020, Nova Scotia pharmacy technicians became the first pharmacy technicians in Canada to become eligible to administer drugs by injection. The Continuing Pharmacy Education department of Dalhousie University launched the Pharmacy Technician Administration of Drugs by Injection program. This was the first injection-training program developed for pharmacy technicians in Canada designed to prepare Nova Scotia pharmacy technicians to administer injections. Through a partnership with PTSA and Dalhousie University, the online module portion of the program was offered to Alberta pharmacy technicians interested in education on how to administer drugs by injection.
While completion of the Dalhousie modules were not guaranteed to prepare an Alberta pharmacy technician to be eligible to inject, they were made available in line with the original plan – if pharmacy technicians have access to training, our profession would be better positioned to accept authorization.
Pursuing Regulatory Changes
In 2020, PTSA drafted a position statement identifying necessary changes to the Pharmacy Technician Practice Framework to expand pharmacy technician practice. The paper identified that pharmacy technicians should administer drugs and vaccines by injection and become licensees of Compounding and Repackaging Pharmacies. PTSA President, Morgan Lahl shared the paper with the Alberta College of Pharmacy (ACP) for consideration.
In the fall of 2020 the pandemic response efforts, including the province's vaccine program, were growing. In response, PTSA sent several letters to the Minster of Health. The first was sent in December 2020 and asked Minister Shandro to grant pharmacy technicians authorization to administer drugs and vaccines by injection and perform nasopharyngeal swabs for COVID-19 testing. A follow-up letter was sent in January 2021 and individual pharmacy technicians sent similar letters requesting authorization be granted. Copies of the letters are available here: https://ptsa.ca/call-to-action-pharmacy-technician-injection/. The Minister's response to pharmacy technicians indicated that before he would consider amending regulations, ACP would need to evaluate preparation and competencies.
At their February 2021 meeting, the ACP Council discussed the Administration of Injections in Pharmacies. The open discussion addressed several emerging concepts about optimizing roles and capacity related to injection.
While some Council Members expressed interest in PTSA's proposal for pharmacy technicians to be able to administer injections, others cautioned that a systems based approach was important to that consideration. There were differing perspectives as to whether performing injections was a clinical or technical function. Alberta's health regulatory structure differs from other jurisdictions, and the clinical and technical responsibilities in performing an injection have not been separated in other professions authorized to perform the restricted activity. Council agreed that all proposals intended to build new roles and opportunities should be considered within ACP's new strategic plan, and not in isolation. Council invited PTSA to research and build a more rigorous proposal that responds to patient and health system needs and that includes "support from other professions". You can read the minutes from the meeting on ACP's website.
Change in Plans for Injection Training
When access to the Dal CPE courses was launched, PTSA planned to develop a supplemental Alberta practice specific self-study module similar to the format of the online Dal CPE modules and a practical training component.
After extensive evaluation of course delivery options, PTSA chose to change direction and instead collaborate with Pear Health to trial an "all inclusive" program option in Alberta. In June 2021, PTSA invited pharmacy technicians that had completed the Dal CPE modules to register in the Pear Health program. The Alberta workshops offered by Pear Health were to be used to evaluate pharmacy technician competencies in order to inform a proposal to the ACP.
This work continued in tandem with advocacy efforts. Ongoing discussions with ACP highlighted that an evaluation of competencies was actually not significantly important. Other jurisdictions across the country have implemented injection-training programs for pharmacy technicians successfully. Additionally, the process of writing a proposal and pursuing regulatory amendments will likely take years. While there is value in the learning, offering an all-inclusive training option now could be misleading to pharmacy technicians, especially since it is unknown if such a program would qualify an Alberta pharmacy technician to obtain authorization to inject.
Actions and Next Steps
PTSA has now ceased promoting injection training for Alberta pharmacy technicians. Pharmacy technicians that registered for the Pear Health program received a refund. Pharmacy technicians that registered for the Dal CPE program have until July 31 2021 to complete the modules and receive a statement of completion.
While a refund option was not possible, PTSA has offered free registration to the Alberta Pharmacy Technician Conference to Dal CPE registrants as incentive for investing time and expense in the program.
PTSA has plans to develop a robust proposal to submit to ACP that addresses:
The value to Albertans if pharmacy technicians were granted authorization to inject
How injections completed by pharmacy technicians could look in the Alberta practice environment
Engagement with other professions/stakeholders
How do you see pharmacy technician injection looking in Alberta? Share your comments below or send feedback/questions to administrator@ptsa.ca