The Value of Networking at the CAPT PDC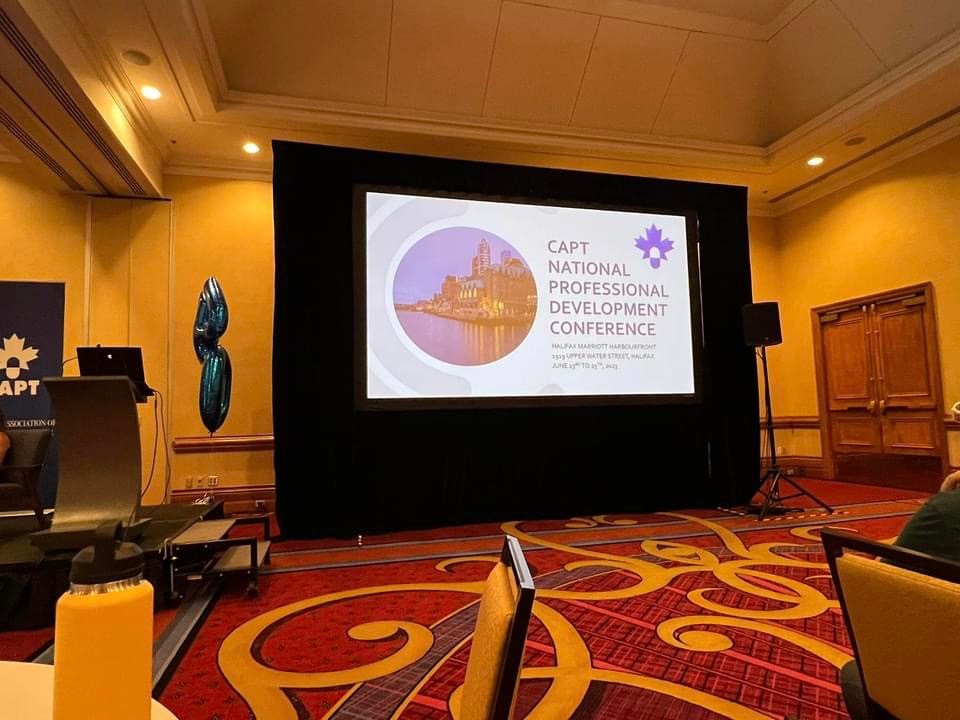 In June, I had the opportunity to attend the Canadian Association of Pharmacy Technician's (CAPT) Professional Development Conference (PDC) in Halifax. CAPT generously extended a free registration to one pharmacy technician from each province that has been participating in the Provincial Representatives Working Group (PWG). Formed in 2017, the PWG provides an opportunity for pharmacy technician representatives from each province to keep each other informed about relevant practice issues and consider joint advocacy initiatives. I've been participating in the PWG since its inception on behalf of PTSA and Alberta pharmacy technicians. The PWG meets several times a year via teleconference and once in person during the CAPT PDC.
The PDC education program was varied but did not include any session topics that I hadn't already heard before. The education content still provided valuable knowledge refreshers but that wasn't the main draw for me. The CAPT PDC was the first in-person conference I attended since prior to the pandemic and I was very much looking forward to interacting with pharmacy technicians from across the country. As pharmacy technicians, we know that continuing education is important for ensuring we maintain our competence and continue to grow as professionals. But have you ever considered adding networking to your professional development plan?
Anytime I attend a conference or pharmacy event, I make a point of meeting and chatting with as many other pharmacy professionals as possible. Not only do I make valuable connections I always learn about unique practices and different perspectives from networking with others. According to the Harvard Business Review, networking is a necessity. There is even research that shows that professional networks lead to more opportunities, broader and deeper knowledge, improved capacity to innovate and improves the quality of work.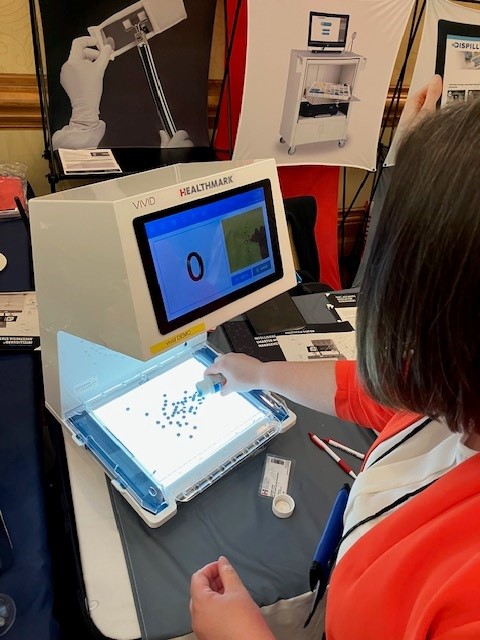 The PDC provided many opportunities to network. The event started with an evening welcome reception during which pharmaceutical companies and product vendors were available. I made a goal of visiting every booth and chatting with each representative. I learned something new from every single booth. From drug manufacturers promoting their green drug packaging, to employers recruiting pharmacy technicians, and vendors showing their efficiency improving equipment, there was so much to learn about. Even if something wasn't directly applicable to my practice, I took the time to ask questions – and even try the products myself! I was pleasantly surprised to find so many of the vendor representatives were pharmacy technicians. I even came away with some unique ideas and contacts to help plan education events, which I was happy to share with the PTSA education committee.
During the reception and breaks throughout the weekend, I also took the time to chat with other attendees and speakers. I met a pharmacy technician from Prince Edward Island who works in a clinic-based pharmacy. I learned so much from our conversation about her role providing injections and how things work from a workflow perspective. A pharmacy technician from Manitoba reminded me that not all pharmacy technicians are regulated as professionals. I also met a pharmacy assistant from Ontario, who after completing his pharmacy technician education, decided not to pursue registration. Our discussion provided valuable insight into why he chose the path he did. From a hospital pharmacy technician from Newfoundland, I learned about her experiences sterile compounding in a brand-new cleanroom. And a pharmacy technician from British Columbia provided me with new perspectives of how to go above and beyond when performing best possible medication histories. With the conference being held in Halifax, there were many pharmacy technicians attending from Nova Scotia and New Brunswick, where most pharmacy technicians work in community pharmacies. Having not worked in community pharmacy for about 13 years, it was refreshing to learn more about everyday challenges in that practice setting.
Finally, the PWG meeting itself provided an opportunity to discuss current issues with other pharmacy technicians. This year we discussed opportunities to inform the direction the National Association of Regulatory Authorities (NAPRA) will take regarding compounding competencies. NARPA is currently in the process of updating its entry-to-practice competencies documents. There are varying opinions about whether to require competence in sterile compounding at entry-to-practice, or to treat it as an additional expertise that could be gained after licensure. NAPRA has been gathering more information to inform discussions on this topic. Through the PWG, PTSA has been provided an advocacy opportunity. We'll be looking for feedback from the membership at the Townhall portion of the annual general meeting in September to inform a position statement about sterile compounding competencies for pharmacy professionals.
Despite the varied perspectives I was able to get from networking with pharmacy technicians at the PDC, I am looking forward to doing the same with pharmacy technicians closer to home. I will have a similar networking goal at the Annual Alberta Pharmacy Technician Conference in September – to learn as much as possible from as many other pharmacy technicians as possible. If you're not already registered for the conference, there is still time to do so. If you are registered, I hope I'll have an opportunity to chat with, and learn from you.
Are you already using networking to contribute to your professional development? Share your experiences in the comments below.
---
About the author: Since receiving her pharmacy technician diploma in 1998, Teresa Hennessey has practiced in front-line and leadership roles in both community and hospital pharmacies. Teresa is dedicated to helping pharmacy technician practice evolve through knowledge sharing and enabling opportunities for professional growth.